I am a very busy mom with three very busy boys! They are always trying to talk me into the latest & greatest sweatshirts and backpacks and I need to label their stuff! With them going off to camp again this summer I started thinking about labels and how to put their names on their gear. That is when I stumbled upon Label Daddy!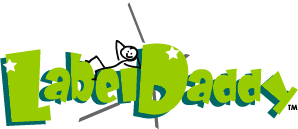 With so many options to choose from,
Label Daddy
has all of your labeling needs covered! Clothing labels, shoe tags, sports tags and so on!
We have put these labels on the boys sweatshirts & backpacks ... they are durable and they last! I was very impressed with the high 'friction' area - near the neck - and how many times do you think I wash boys clothes? Hundreds! The labels have not worn off!
For more information or to purchase your own labels visit the Label Daddy website at:
Labeldaddy.com
And, because I am always up for a good deal my blog readers who order through the link or with the code
oakpark
will save 10% off their purchase!
Tell your friends! Tell Grandma & Grandpa! Tell your kids teachers! Tell everyone!
Now back to the regularly scheduled program ! (grin!)